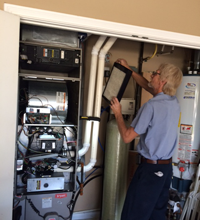 With regular maintenance you will prevent small problems from becoming big problems and ensure optimal performance of your comfort system. We also offer annual service agreements, which can reduce the cost of a Performance Tune-Up.
Regular maintenance will:
Provide longer lasting equipment
Reduce utility bills
Reduce repairs
Provide a more comfortable indoor environment
Protect your investment
Our Spring Service Includes:
Oil Blower Motor
Check Belt
Check Blower Speed
Check Thermostat
Check Wiring
Check Electrical Controls
Check Condensate Drain
Check Refrigerant Charge
Check Ductwork Connections
Check Electrical Connections
Check Condenser Coil
Check Voltage
Check Amperage
Condenser Temp Rise
Evaporator Temp Drop
Check Head Pressure
Check Filter
Check Evaporator Coil
Check Drain Pipe
Our Fall Service Includes:
Adjust Primary Air
Check Blower Moto
Check Blower Speed
Check Belts
Check Burners
Check Fan Control
Check Filters
Check Flue Pipe
Check Flue Drat
Check Gas Input
Check Heat Exchanger
Check Limit Switch
Check Pilot
Clean Pilot
Check Safety Pilot
Check Thermostat
Our Technicians are NATE Certified. Over 97 Years of Dedicated Service to the Miami Valley.